For the General Public (Open Seminars and Clinic Search)
2015 Academic Year: Open Seminars (Reference)
This year's theme is "Living Actively with Oriental Medicine."
The 2015 Toyoshinkyu College of Oriental Medicine Open Seminar series is starting!
This "Acupoint Seminar for Beginners" is open to the public (women only).
The lively content of this seminar is open to all women who have an interest in oriental medicine. We also welcome participation from working women on their way home from work, women in the local community, and, of course, women considering enrolling in Toyoshinkyu. The Open Seminar is held during the same time as the night course, so participants can also see the atmosphere of night course classes. We are waiting for you!
Please make reservations by telephone or email
Please include "Open Seminar Attendance Request: Seminar No. ___ (Open Seminar Number)" in the subject line of email reservations (info@toyoshinkyu.ac.jp). In the email itself, please include the following information:
1. Name
2. Contact Telephone Number (Landline or Mobile)
3. Address
4. Number of Participants (if an email is being sent for multiple participants, please include the name(s) of any additional participants)
We accept participant questions!
This year Toyoshinkyu has established some "Oriental Medicine Question Time."
We have made some time for a female Toyoshinkyu instructor to answer questions from women who would like to talk with someone about feeling generally less than fine, but not at a level so severe that it requires the attention of a doctor. We accept questions during attendance reservations. (Please accept our apologizes if we are not able to answer your question in the time allowed.)
Reservations and Inquiries
Toyoshinkyu College of Oriental Medicine
1-4-4 Hyakunin-cho, Shinjuku-ku, Tokyo 169-0073
TEL: 03-3209-5436 FAX: 03-3209-5569
E-Mail:info@toyoshinkyu.ac.jp
Open Seminars from 19:00. Join on you way home from work or school!
Images from the 2014 Academic Year Open Seminar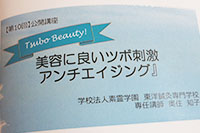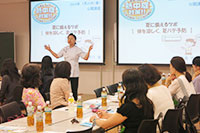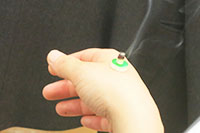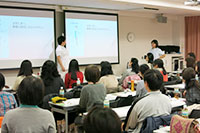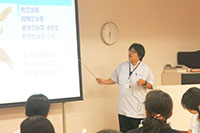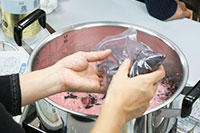 Clinic Search
We provide information on clinics opened by graduates of Toyoshinkyu College of Oriental Medicine. Please use this information when you are searching for a clinic near you or for a clinic in which you are interested. All of the clinics feature Toyoshinkyu graduates with licenses granted by the Japanese government. Please feel at ease when making contact or visiting.
(Please direct inquiries or questions directly to individual clinics using the listed contact information.)