Oriental Medicine
The History of Oriental Medicine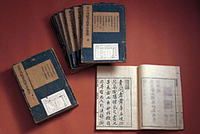 A broad characterization of traditional oriental medicine includes Unani medicine (an Islamic system of medicine), Ayurveda (from India), and the Chinese medicine that originated in China and spread across East Asia.
The foundations of Chinese medicine were established about 2000 years ago. The medical texts from this period are referred to as the "Classics." These Classics include the classical texts of acupuncture and moxibustion – the Suwen, the Lingshu, and the Nanjing – as well as the classical texts of Chinese herbal medicine – the Shanghan Lun and the Jin Gui Yao Lue. These Classics are still being read devotedly today.
Toyoshinkyu founder Sorei Yanagiya placed great importance on reading these Classics, advocating a "return to the Classics." At Toyoshinkyu, we continue his long-cherished desire with classes on reading the Classics and the active implementation extracurricular study groups.