Acupuncture
Acupuncture
In Japan, acupuncture and moxibustion are collectively called shinkyu. Globally, acupuncture and moxibustion have the longest history of any traditional medical system and currently lead the worldwide spread of complementary and alternative medicine.
Acupuncture is thought to have originated with stones sharpened to points. It seems these sharpened stones were inserted into affected areas to cause bleeding with the goal of treating poisonous insect stings and pus-filled injuries. Over time, accumulated experience led to the discovery of acupoints and meridians, as well as the invention of metal needles. These metal needles were utilized to affect acupoints and meridians to provide treatments.
Nine types of acupuncture needles are recorded in the Ling Shu, an important classic text of Chinese medicine. The filiform needles most commonly used in acupuncture today are one of these nine types. Similar filiform needles made of gold have been discovered interred in tombs of aristocracy dating from ancient China. Thin, filiform needles inserted painlessly are one defining characteristic of Japanese acupuncture.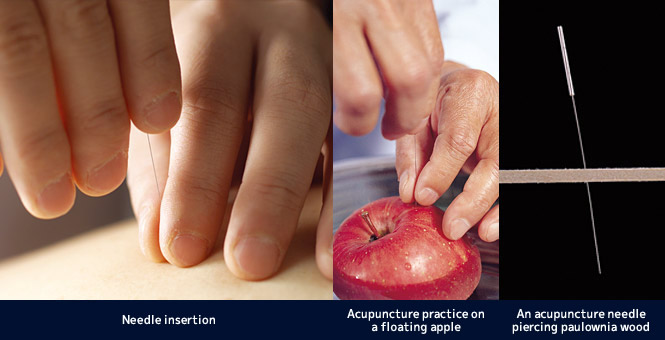 Acupuncture needles used in Japan have been developed alongside the Japanese people, with the most common needles thinner and providing softer stimulation than acupuncture needles from China. Using such fine needles to treat a variety of conditions requires the application of delicate technique to manage the biological response to stimulation. In order to achieve this level of technique, students at the Toyoshinkyu College of Oriental Medicine practice needle insertion on tightly packed rice bran in what is called a "nuka makura," or "bran cushion." Furthermore, students practice acupuncture needle insertion on an apple floating in water. Without proper stance and positioning the apple will rotate, making needle insertion quite difficult. Other practice techniques include inserting a needle completely through a thin board of paulownia wood. This katamono-tooshi (lit. "piercing an object of hardness") technique is quite old as a technique to practice acupuncture. In addition to needle insertion practice, there is also practice on how to sharpen and prepare acupuncture needles. This practice is important because how an acupuncture needle is sharpened and prepared will alter the manner of its insertion. In classes, basic practice is performed with silver needles, noted for both being flexible and difficult to control. Disposable silver needles are used for acupuncture training on individual people. In recent years we have incorporated an acupuncture needle insertion practice device made of silicone that simulates the feel of human skin, applying modern developments to practice techniques in our efforts to continue to preserve traditional acupuncture and moxibustion from the classic texts.