Moxibustion
Moxibustion
Moxibustion is ancient in its origins. Written references to moxibustion appear as early as the Spring and Autumn period and Warring States period, periods of Chinese history spanning from the eighth to the third century BCE. Current consensus holds that moxibustion was codified as a treatment modality before acupuncture.
Moxibustion utilizes moxa (from the Japanese mogusa), which is created by crushing the dried leaves of yomogi, a variety of mugwort. This moxa is kneaded and shaped, placed above acupoints, and then burned on the skin. Moxa was commonly found in Japanese homes prior to WWII, with home-administered moxibustion used to treat painful legs and backs, as well as stomach trouble. Many reports state moxibustion was used successfully to treat pulmonary tuberculosis.
In application, moxibustion takes many forms, from moxa burned directly on the skin to moxa placed on slices of garlic or ginger and then burned. Treatments placing moxa directly on the skin have fallen out of use in modern China; instead, rolled sticks of moxa are used to indirectly apply heat. Japan has retained the tradition of moxa applied directly to the skin. Japan has also developed unique moxibustion techniques such as hachibukyu, where a small cone of burning moxa is extinguished with the fingers after approximately eighty percent of the cone has burned, and shijokyu, where moxa is kneaded into thread-thin columns and burned directly on the skin. Thread-thin shijokyu is often used to treat sprains, while the slightly larger cones of hachibukyu are often applied to the treatment of warts.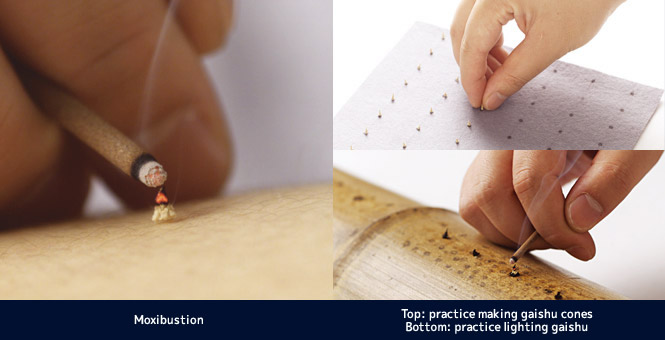 Moxibustion is commonly thought of as being unbearably hot, but it actually feels pleasant to patients. In rare cases, very hot moxibustion is used to treat certain conditions; however, moxibustion is fundamentally a treatment that feels good for the patient and is not performed with excessive levels of heat. A strong foundation of technique is needed to apply moxibustion at this level. The first stage of practice at Toyoshinkyu College of Oriental Medicine is to knead cylindrical shapes of moxa called gaishu, producing sizes ranging from a grain of rice, half a grain of rice, or as thin as a thread (approximately 1/8 the size of grain of rice). The standard for practice in the college is the creation of sixty rice grain sized moxa gaishu in one minute. Once this is achieved, practice progresses to deftly placing and lighting moxa gaishu on bamboo split in half lengthwise. This is practiced repeatedly, with the goal of lighting forty gaishu in one minute. Practice then proceeds to moxibustion applied to the human body. Over the course of three years, study advances from basic to advanced moxibustion, which includes moxa sticks, moxa placed on various materials, and moxa removed or extinguished once heat is felt. Through this process, students in the college learn the techniques of moxibustion as developed in Japan, with constant training aimed to develop the ability to respond to many conditions through dexterous application of the fingertips.