School Founder: Sorei Yanagiya
Sorei Yanagiya: Pioneer in the Globalization of Japanese Acupuncture and Moxibustion
Sorei Yanagiya was a global authority in the field of medicinal acupuncture and moxibustion, as well as the founder of the Toyoshinkyu College of Oriental Medicine (currently operated by the Sorei Gakuin Educational Foundation). In 1955, he traveled to Europe following an invitation from the French International Society of Acupuncture and Moxibustion. In France, Yanagiya demonstrated the essence of Japanese acupuncture and moxibustion to a group of French doctors and greatly impressed them with his masterful skill and technique. French media at the time prominently featured Japanese acupuncture and moxibustion, with Yanagiya's keen sensitivity and incredible level of skill becoming a sensation that led to an incredible boom in Japanese acupuncture and moxibustion. People competed for time with Yanagiya during his stay in Paris and he exerted a powerful influence on more than 5,000 doctors over the course of his travels in Europe. Although the prestige of Japanese acupuncture and moxibustion was at stake, Yanagiya provided a global debut that was one of the century's more memorable. His influence is comparable to the influence of acupuncture anesthesia that later reached the world from China.
Sorei Yanagiya also visited Belgium, Germany, Switzerland, and Italy during his time in Europe. Japanese acupuncture and moxibustion appeared in the spotlight wherever he visited. Following this European tour, physicians and MDs from North America, Asian-Pacific regions, China, Hong Kong, Korea, Nepal, and Vietnam flocked to Japan to become Sorei Yanagiya's pupils. It would not be an exaggeration to state that at the time, Japanese acupuncture and moxibustion was the world leader in acupuncture and moxibustion.
The Exceptional Legacy of Sorei Yanagiya: Venerated Acupuncturist
Sorei Yanagiya possessed a sensitivity that was open minded and open hearted, simultaneously bold and delicate. His compassion for others was like that of a loving parent, accepting and tolerant. Peerless in clinical abilities, leadership, and writing, Yanagiya had exceptional charisma and a truly powerful presence. His significant achievements have become legends in their own right, told and retold to the present day. This is the foundation upon which technique instruction at Toyoshinkyu is built.
Sorei Yanagiya valued learning from the past in order to move forward. It was in this spirit that he advocated a "return to the Classics," personally performing extensive research on these classical medical texts and related materials. Yanagiya applied his superb powers of observation, perception, analysis, and judgment to shed light on the Classics, creating a path from the past to the present in order for the illuminating light of the Classics to continue to shine far into the future. While remaining faithful to the fundamentals and adhering to universal principles and rules, he also advanced the scientific application of the Classics. He completed The Science of Acupuncture and Moxibustion: Techniques shortly before his sudden death. This work, in addition to the more than 50 works that he completed during his lifetime, contain his essence and are a treasure for practitioners of Yanagiya's teachings.
Many of Sorei Yanagiya's works are unfortunately out of print, with existing volumes often having discolored pages or disintegrating bindings. At Toyoshinkyu, we have started work on releasing reprints of the originals.
Restoring the Written Legacy of Sorei Yanagiya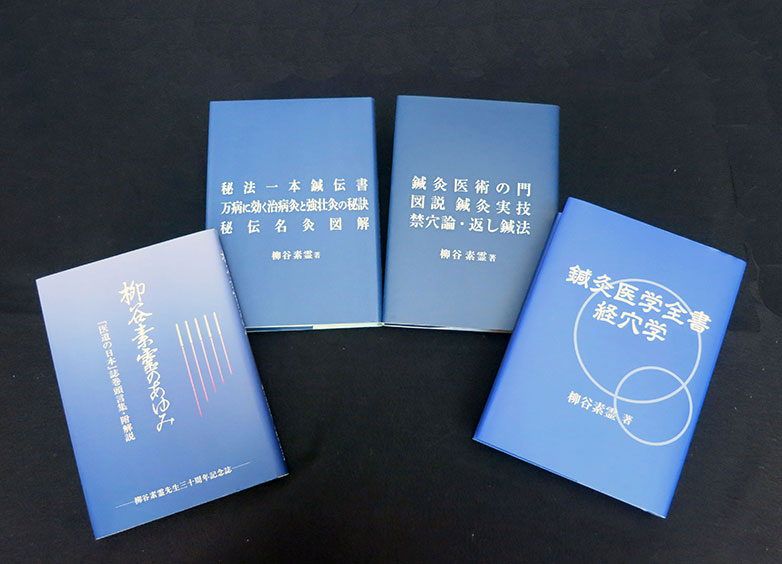 Installment 1:
The History of Sorei Yanagiya
Installment 2:
A Guide to Secret Techniques of Single Needle Acupuncture,
Secrets of Therapeutic and Tonic Moxibustion Effective Against All Diseases, and
An Illustrated Guide to Important Moxibustion Esoterica
Installment 3:
Introduction to the Medical Arts of Acupuncture and Moxibustion,
Illustrated Techniques of Acupuncture and Moxibustion, and
Forbidden Acupoints and Methods for Dealing with Adverse Acupuncture Reactions
Installment 4:
Encyclopedia of the Medicine of Acupuncture and Moxibustion: Acupoint Theory
(Released in November 2015)
Toyoshinkyu plans to continue releasing reprints of Yanagiya's works.
Recognized as Masters, some Recipients of Prestigious Honors and Heads of Industry Organizations
Sorei Yanagiya established the Toyoshinkyu College of Oriental Medicine on the foundation of a noble philosophy. Toyoshinkyu's proud authority and tradition have been carried on continuously to the present day. As one of the most prestigious schools in the field of Japanese acupuncture and moxibustion, Toyoshinkyu has produced a number of outstanding graduates.
Makio Nakamura (dec.): Former President, Japanese Acupuncture and Moxibustion Association (recipient of The Order of the Rising Sun, Gold Rays with Rosette (2005) and Medal of Honor, Medal with Blue Ribbon (1998))
Chuin Tokimoto, Former President, Hiroshima Acupuncture and Moxibustion Association (recipient of The Order of the Rising Sun, Gold and Silver Rays (2003))
Shozo Hoshina, Former President, Aomori Acupuncture and Moxibustion Association (recipient of The Order of the Rising Sun, Gold and Silver Rays (2005))
Oki Yoshioka, Former President, Akita Acupuncture and Moxibustion Association (recipient of The Order of the Rising Sun, Gold Rays with Rosette (2013))
Hideyuki Takahashi, Former President, Fukushima Acupuncture and Moxibustion Association (recipient of The Order of the Rising Sun, Gold and Silver Rays (2014))
Ryota Inoue, Representative Director, JTA Komori (provides treatment to athletes and to members of the Seibu Lions baseball team)
Akizo Okada, President, Traditional Japanese Medicine
Shuichi Katai, President, Japan Traditional Acupuncture and Moxibustion Society
Tsuneo Takada, President, Tokyo Acupuncture and Moxibustion Society
Hokan Saito, President, Seihokai Classical Acupuncture and Moxibustion
Distinguished Toyoshinkyu Alumni on Television
Kendo Kawai: performed treatments on former Japanese Prime Minister Junichiro Koizumi; appeared on "Shujii ga mitsukaru shinryoujo" (TV Tokyo)
Akizo Okada: performed treatments on former Tokyo Governor Shuntaro Ishihara; appeared on "Shujii ga mitsukaru shinryoujo" (TV Tokyo)
Fumichika Takemura: performed treatments on celebrities, athletes, and victims of the Great East Japan earthquake (2011); appeared on "Tamori no waratte ii tomo (special edition)" (Fuji TV)
Shuichi Katai: performed treatments on famous people in various fields; appeared on "Asa-ichi" (NHK TV)
Takumi Terakado: performed treatments on celebrities and athletes; appeared on "Za besuto hausu 123" (Fuji TV)