2015.1.30 (Friday)
Tashiro Shinkyuin (Tashiro Acupuncture and Moxibustion Clinic)
Kazuhiro Tashiro, Tashiro Shinkyuin
Director of Tashiro Shinkyuin and 2011 graduate of the Acupuncture and Moxibustion Night Course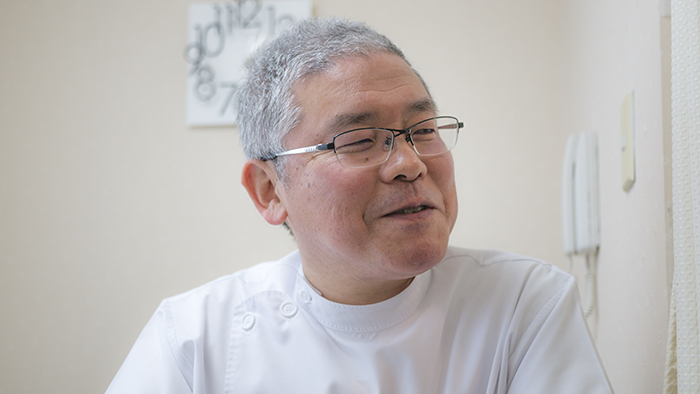 Tashiro witnessed multiple coworkers fall ill during the 17 years he worked in sales for a major information services company. He realized the importance of maintenance for keeping in good shape and decided to enroll in school. He currently operates Tashiro Shinkyuin out of the building manager's office at a condominium complex in Urayasu City.
About Tashiro Shinkyuin
Why did you open your practice in a building manager's office?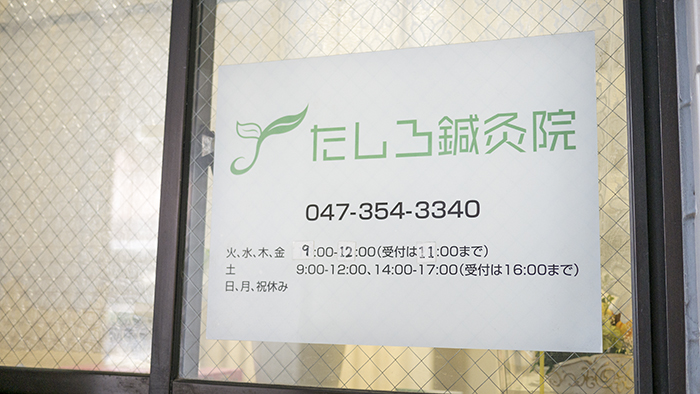 I heard that if I wanted to find a cheap space, I should look for places without a bath (laughs). I originally planned to open in a different building, but that building was left leaning after the 2011 Tohoku Earthquake so I ended up here. But, things worked out for the best. The clinic is on the first floor and it is easy for clients to access. I have a wife and child, and my child needs a lot of money for living expenses. So, it is important to balance securing an adequate income with creating clients for the clinic.
In opening my practice it was extremely important to not put pressure on my family's living expenses. This bed here was 8000 yen (laughs). I think you should definitely start small.
What means do you use to acquire customers?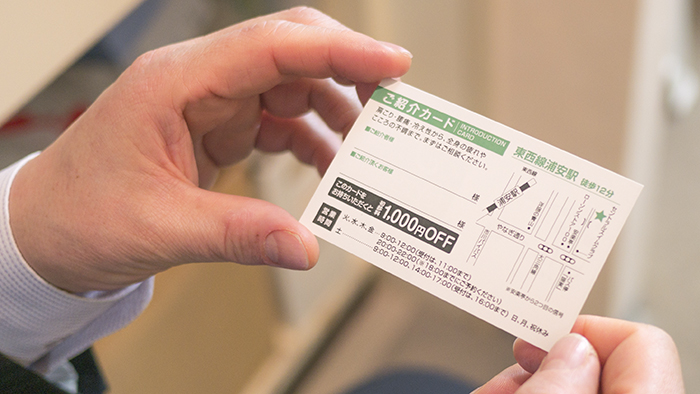 I guess half of my clients come from the homepage, while the other half are referrals. Maybe a little more clients come from referrals than the homepage. In my treatments, I take time to listen to the client but the treatment itself is very soft and brief in duration. If someone just came in off the street they would probably think, "What kind of treatment is this?" Instead of commenting on the treatment itself, clients will tell me about the effects of treatment in their lives. For instance, a person who has decreased autonomic nervous function with reflux esophagitis will tell me they were able to sleep well after they went home or they have less heartburn. I am grateful when clients who are referred here understand this process.
Please tell us about the types of clients you treat.
I see a lot of clients with autonomic nervous system or psychological issues. Just these two conditions are about 60 to 70 percent of my clients. Between 20:00 and 22:00, I see a lot of junior and senior high school students. The junior and senior high school students refuse to go to school… or, rather, they can't get up in the mornings. I think it is probably a sleep disorder. There are a lot of kids who come to the clinic for orthostatic syncope. Urayasu is an area really passionate about education, but I think that the prevalence of this condition is the result of too much cramming and limited sleep from a young age. Often the father worries more than the mother and will come along with their child, moving around the bed during the treatment and watching the care I provide (laughs).
Was there anything that you paid special attention to when opening your practice?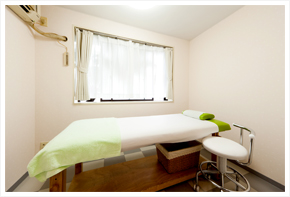 It is very important to decide who will be your main target base. I decided the autonomic nervous system, disorders of internal organs, and gynecology would be my main focus and studied these areas.
However, I think I was able to do this because I was in the Acupuncture and Moxibustion Course. Of course, healing through anma is possible… but at the same time you have the option of using massage. There is definitely a market from people seeking something other than this. I don't compete with orthopedic clinics, osteopathic clinics, or general acupuncture and moxibustion clinics.
Life at Toyoshinkyu
Why did you decide to become a practitioner of acupuncture and moxibustion?
When I was small, my mother and grandmother often went to acupuncture and moxibustion clinics. They would come home feeling so much better. I think I probably had imprinted on me from a young age the idea that if you get acupuncture and moxibustion you will feel a lot better.
I used to work in sales for a major information services company and I had many colleagues who couldn't continue working because of mental or other issues. I kept thinking about whether there was anything I could do to help these people, and I thought acupuncture and moxibustion might be beneficial. Companies properly respond when employees fall ill by referring them to industrial physicians. However, what is important is performing maintenance so that people do not fall ill in the first place. I felt that not enough people were fulfilling this maintenance role in society. I decided to start because I thought I could help from a perspective of care.
Please tell us some memories of your time at Toyoshinkyu.
To be honest, when I started studying oriental medicine it seemed like it was something from the occult world (laughs). However, a practitioner of acupuncture and moxibustion told me that oriental medicine is medicine based on experience and it is likely the theory emerged later. This person told me that if I could believe in technique and the fact that people are cured, then the theory could just be a theory. In short, they said that it is enough if the patient gets better and feels better. "Exactly," I thought.
Another point was the high average age of students in the night course. This gave me a significant sense of security. I think it was good to be in the night course and able to become acquainted with people of various experiences and outlooks on life, people like a class-1 architect and a person who already opened their own practice as a bodywork therapist. There was not much opportunity to get together for drinks because I was working during the day, but when I had time I would go to school early and my classmates and I would talk. Communicative abilities and humanity are very important to me, so for me this time was very positive.
Please tell us about your schedule when you were a student.
Something like this: work from 9:00 to 17:00, school from 18:00. At my former workplace I had an agreement where I would work in marketing and sales support until 17:00.
Before the national exams… All the time I spent on trains I spent studying, but my pace at work didn't change. When I felt tired or felt like I was getting sick I would get up on a bed in the practical training room and tell the teacher I was feeling sluggish and ask them to please do something (laughs).
Message to people wanting to become practitioners of acupuncture and moxibustion
What is the appeal of Toyoshinkyu?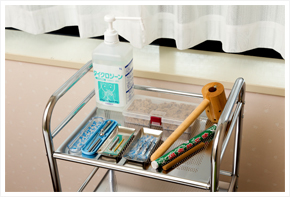 All of the teachers placed importance on understanding the body of the patient, checking the pulse, and feeling how the skin or meridians change, so this becomes natural by the time you leave Toyoshinkyu. It is important to know what changed as a result of what you did. I think this is one of the merits.
People often think that acupuncture and moxibustion clinics are specialized in acupuncture, providing treatments for all conditions. Personally, I think it is simpler to focus on certain conditions, handing down the skills for "only this." If you make your target "only this," then you know how to design your clinic and you can make specialized medical charts and provide therapeutic diet advice. You can provide a service specialized to the individual.
When I think about what I can contribute to the world with the time I have left, I think about creating a model system that would make it possible to start making contributions in a relatively short time by specializing in an "only this."
What would you like to tell people who want to be practitioners of acupuncture and moxibustion?
In the past, infectious diseases were the problem, but now there is an incredible increase in lifestyle related diseases and indefinite complaints with no clear cause. Western medicine has its merits, but I believe it is our place to do something for people whose conditions are either not understood by western medicine or have no established treatment. I really hope more people will learn acupuncture and moxibustion.
Tashiro Shinkyuin
13 minute walk from Urayasu Station
* Closed on Sundays, Mondays, and National Holidays
Hours
Tuesdays – Fridays: 9:00 – 12:00 (last reception 11:00), 20:00-22:00 (reservations close at 18:00)
Saturdays: 9:00 – 12:00, 14:00-17:00 (reservations close at 16:00)
Phone: 047-354-3340
Address: 1F Lumie Urayasu, 4-16-19 Kitazakae, Urayasu City
Homepage: http://tashiro-hari-kyu.com/
Treatments are focused on the autonomic nervous system, psychological issues, and gynecological conditions. Tashiro Shinkyuin is distinctive for acupuncture that is both soft and gentle.
View a PDF version of this interview (Japanese)