Chie Tanaka of Cheka Acupuncture & Moxibustion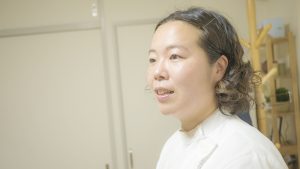 Director of Cheka and 2010 Graduate of the Acupuncture and Moxibustion Night Course

Tanaka worked in sales for eight years at a food manufacturer, but found her health declining due to the exhausting work. This led her to discover acupuncture and moxibustion. Her goal when she enrolled in Toyoshinkyu was to open her own practice as soon as she graduated. Working part time at another job while in school, she graduated in three years. Now, Tanaka runs Cheka, an acupuncture and moxibustion clinic for women only located in the Nagayama area of Tama City.
About Cheka
How many people visit the clinic in a month?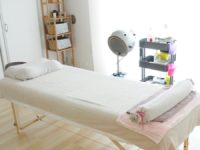 Now it is between 80 to almost 100 people every month. I have an internal goal of working out of this space for two-and-a-half years, and I want to increase the number of people I can treat by a multiple of about 1.8 by the end of this period. I want to achieve the maximum level of turnover that I can perform by myself. Once I have done this, I want to increase capacity and then further increase the number of provided treatments.
What are the ages of people who visit the clinic?
The largest group is people in their thirties and forties. People in their twenties are about 10-percent of the total. That being said, children also come in for treatments. There are no infants currently, but there are some elementary school students.
Children include kids with autism, kids with weak constitutions, and kids with problems sleeping. Rather than the convulsive fits of babies, I treat elementary school children who have sleep-related issues, maybe related to the effects of stress.
What do you do different as a women-only acupuncture and moxibustion clinic?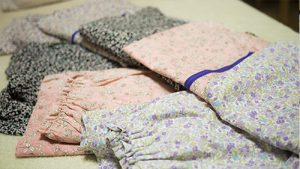 I make the floral patterned outfits my clients wear during treatments. A lot of women really like these outfits. Elderly women patients have told me "this is the only place I get to wear floral patterns!" (laughs). I would like to eventually start selling these outfits. When I went to Vietnam, I bought some fabric and thought about how low I could make the cost through negotiation with a garment maker. Some of my female classmates who have opened their own practices have said they want some and want me to make some outfits.
Tell us about the seminar.
I give a seminar on acupuncture and moxibustion, targeted to women in their thirties and forties who have never experienced acupuncture and moxibustion. Although the Tama City area where I opened my practice has a large elderly population, I thought there were still many young people who had never experienced acupuncture and moxibustion. I started the seminar as a way to develop this demographic.
Past seminars have included a seminar of how to use moxibustion for the first time, and a seminar where I invited a chef to teach on the theme of soup stocks. What's interesting is that some seminar teachers have never experienced acupuncture and moxibustion themselves, so this becomes a point of mutual excitement and leads to people in the seminar providing introductions to many different people. Even this kind of interaction can expand one's circle, and for this reason as well I am glad I started the seminars.
The seminar handouts are something that I asked a classmate who was a web designer to make for me. There were a lot of pros from different fields in my class, and they have been assisting me even after graduation.
Life at Toyoshinkyu
Why did you decide to become a practitioner of acupuncture and moxibustion?
I worked for eight years in sales for a food manufacturer and I was out of the office all day visiting clients. It was exhausting work. Probably as a result, I didn't have my period for a whole year and lower back pain became a fact of life. At that time, I just happened to encounter acupuncture and moxibustion. I really felt the appeal of being able to provide maintenance to the mind and body, and the fact that you can start your own practice as soon as you receive your license.
Acupuncture and moxibustion allow you to work independently at your own pace, and make it possible to utilize the hardships you have experienced in the past. I thought this was a good profession, so I quit my job and immediately started going to Toyoshinkyu.
Can you share some memories of your time at Toyoshinkyu?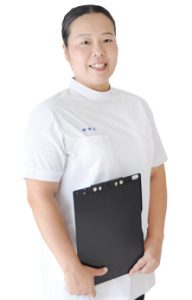 I was in the night course, so my classmates were a truly diverse group of people. It was really interesting, having classmates ranging from young to old who came from completely different career backgrounds. Studying for the national examinations was hard, but we would share the mnemonics we learned with each other and there were people we could ask about certain subjects. For instance, if you needed to know something about muscles you would ask so-and-so.
I enrolled with the desire to open my own practice. I had classmates who were seitai bodywork therapists and aroma therapists so I could talk with them when I wanted to talk about this. I think having many people you can consult while you are a student is one of the strengths of the night course.
While I was in school, I worked from 9:00 to 17:00 in general office work for three years. It happened to be an understanding workplace, so I was fortunate to not feel any tension in the office when I left to go to school. The clinical practicum during my third year was extremely hard. I came from a completely unrelated background, so there was a considerable difference between me and people coming from a treatment background. Still, the clinical practicum is recorded, so I think it was good to be able to watch myself objectively. But it was so hard (laughs).
How did you handle tuition?
About two-and-a-half years worth of tuition came from money I saved during eight years as a working adult. Once I started school, I covered daily living expenses, the cost of acupuncture and moxibustion equipment, and the remaining tuition with earnings from my part time job. I just managed to scape by (laughs).
Message to people wanting to become practitioners of acupuncture and moxibustion
Is your previous work experience useful in your life as a practitioner of acupuncture and moxibustion?
It is very useful. Even though it is acupuncture and moxibustion, what we are doing is part of the service industry. Of course, it is also a skilled profession, so skills are important, but service is just as important.
When I was working in sales I would deliver product seminars at client locations. Through this, I naturally studied things such as how to communicate. These kinds of elements are proving useful now.
What would you like to tell aspiring practitioners of acupuncture and moxibustion?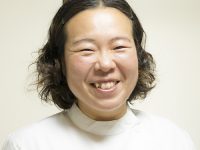 I enrolled in Toyoshinkyu at thirty, but I opened my own practice as soon as I graduated and now am able to do what I want. I had a very strong sense of purpose in my desire to open my own practice. This is for the people who are going to start school: if you have a goal, always keep your goal in mind while studying and spend your three years at school considering what kind of person you want to become.
In addition, it is fairly easy to withdraw into your own shell and limit your perspective when you open a practice by yourself. While you are in school, you should be willing to listen to teachers and learn about different ways of performing acupuncture and doing moxibustion, regardless of your personal preferences. Later, you will recall the things you did and all of these experiences will serve to increase your repertoire of techniques. I believe it is good to try many new things during the three years of school.
Cheka Acupuncture & Moxibustion
Located a two-minute walk from Nagayama Station (Odakyu Line and Keio Line)
Hours:
Weekdays: 9:00 – 22:00 (last reception at 21:00)
Saturdays, Sundays, National Holidays: 9:00 – 19:00 (last reception at 18:00)
Phone: 090-7424-8868
Homepage: http://www.cheka-hari.jp/
Tanaka is charming with her smile and decisive way of speaking.
Her clinic is full of the small considerate touches that a woman can provide, like the aroma diffuser and stuffed animals on the shelves, a space for eyeglasses and accessories beside the treatment bed, and a pre-treatment footbath service.
* Treatments for men are provided on a referral-only basis.
Read a PDF Version of this Interview